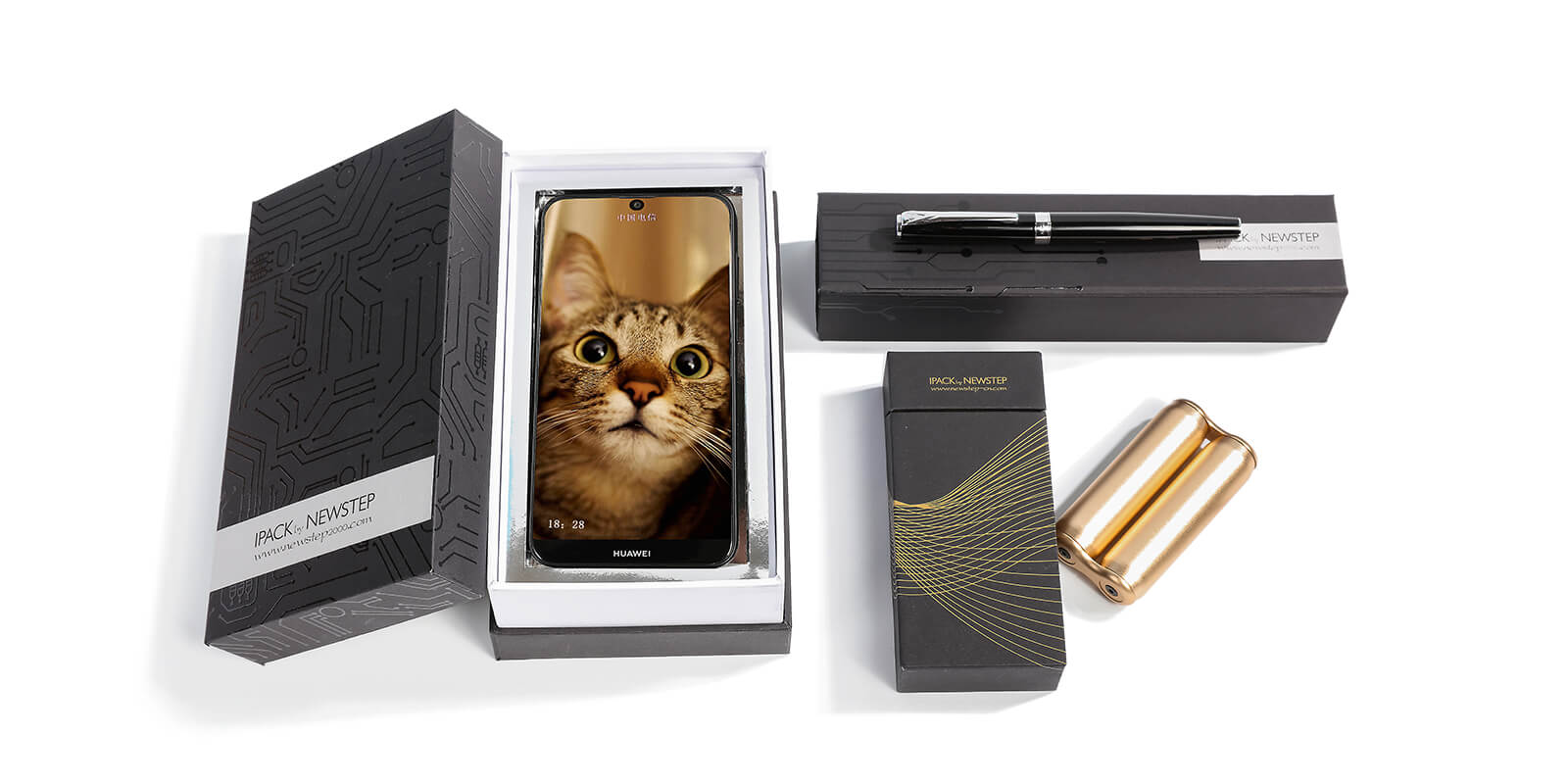 Custom Packaging Boxes Manufacturer
Bespoke luxury packaging boxes supplier
Emain true original aspiration as our concept,make packaging box fit every product.
One-stop packaging production service, from structure to sample, to the bulk production.
Customization concept for each box follows natural simplicity, adopts environmentally friendly materials.
Each box is carefully crafted with the spirit of craftsmanship, to maximize the corporate culture and emotional story behind it.
Packaging box conveys the emotional communication between people.Warm people heart. Improve the quality of customized packaging.
Custom Packaging Technique
Bulk Production Advantages
Focus on improving product quality and customer service.
Many luxury brands in Europe and America. 23 years of hard work and research packaging .
Patient, insightful, and creative to provide customers with perfect solutions.
Recycled Packaging
Eco-friendly, Sustainable, Recyclable
Recycled Packaging Material
ECO-friendly packaging boxes manufacturers.
Custom made recyclable packaging boxe.
We hade FSC quality certify.Promote the environmenttal awareness.
23years experiences with luxury packaging boxes.
Provide premium products packaging boxes.
Certification
FSC, Sedex, SGS, ISO9001
Delicate Packaging
Our company and packaging products pass the international standards, like FSC,Sedex ,ISO9001.SGS and have customer inspection report.
Production Experience
23years manufacturers
Constantly improve something
Newstep was established in 1997, with nearly 23-year successful experience in supplying superior quality packaging boxes and paper shopping bags for the luxury brands all over the world.
including garment brands, cosmetic brands, jewelry brands and many gift retail shops.
Factory Certification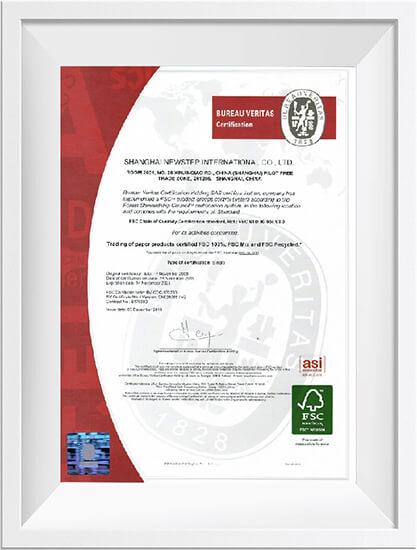 (Forest Stewardship Council) abbreviated FSC, is a non-governmental, non-profit organization. It was established in 1993 and its initiators are non-governmental organizations, environmentalists, timber trade organizations, and socially responsible consumers who want to prevent the continuous destruction of forests.
The source of paper is through wood products. FSC traces the entire process of wood products from the forest to the consumer, so that the legal and sustainable source of wood can be controlled. Therefore, companies that have requirements for environmental protection will require packaging box manufacturers to have corresponding qualifications. Make the operation structure and management of the forest area more reasonable, and ensure that the operators do not sacrifice forest resources and ecosystems while making profits.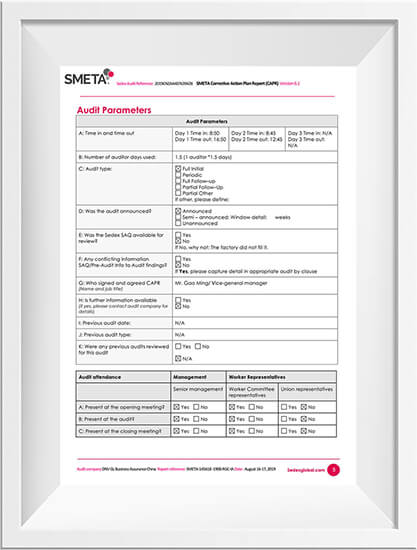 Sedex is a global supplier ethics information exchange platform. Many world-renowned brands have this requirement for suppliers. It is a social audit responsibility process widely used in the world.
It is also one of the globally recognized methods that can be used to evaluate the supply chain, including labor rights, health and safety, environment and business ethics.
Newstep Packaging has always required itself in accordance with social responsibility standards. We have passed the Sedex factory inspection, which shows that we comply with business ethics and can be more assured to cooperate with enterprises. Our employees can work in a good environment, and can work harder when producing packaging boxes and handbags, completing more delicate product packaging boxes for customers, and producing high-quality products.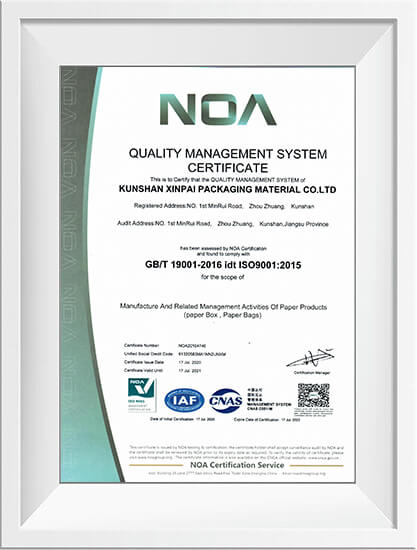 ISO-9001 is transformed from the world's first quality management system standard BS 5750 (written by BSI), and is by far the most mature quality framework in the world. ISO 9001 not only sets standards for the quality management system, but also for the overall management system. It helps all kinds of organizations to achieve success through customer satisfaction improvement, employee motivation and continuous improvement.
Xinpai Packaging successfully passed the ISO-9001 quality certification management system. Prove that Xinpai Packaging has the ability to provide product packaging boxes and handbags that meet customer requirements and applicable regulatory requirements. The quality of the customized packaging boxes and handbags produced is fundamentally guaranteed.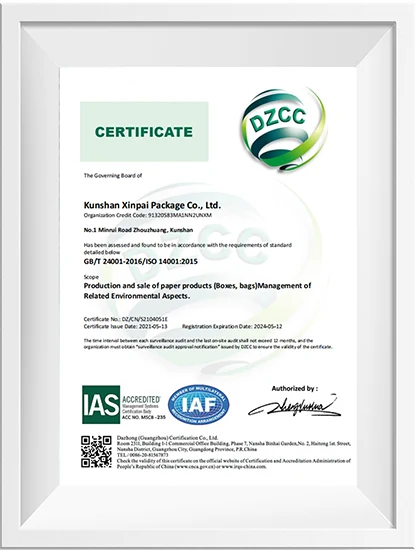 ISO 14000 is a family of standards related to environmental management that exists to help organizations minimize how their operations (processes, etc.) negatively affect the environment (i.e. cause adverse changes to air, water, or land)
Newstep Packaging provides customized packaging boxes for European and American luxury brands throughout the year. Professional packaging manufacturers are not limited to custom paper packaging boxes and paper handbags, but also involve custom-made handbags made of sewn fabrics, strictly in accordance with EU standards. Requirements for packaging materials with recyclable products.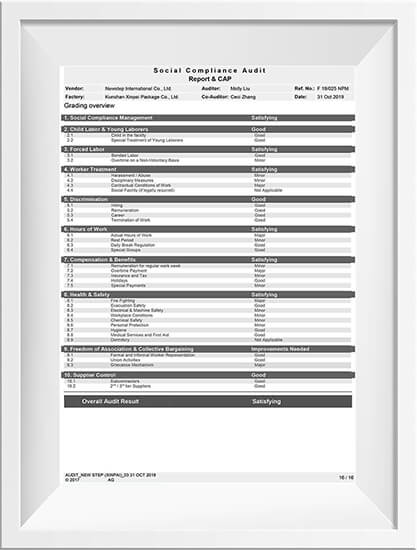 The world-renowned luxury brand factory inspection report, Xinpai Packaging passed the excellent evaluation score, and the inspection was evaluated in multiple aspects and dimensions, such as: packaging plant, operation workshop, production safety, staffing, surrounding environment and other factors. .
Humanized management, complete production processes for packaging boxes and handbags, well-equipped machinery and equipment, and safety precautions have all achieved excellent results. Pay attention to the quality of packaging boxes and handbags, pay attention to corporate culture, and uphold a packaging manufacturer that takes production as its own responsibility, quality as the requirement, and efficiency as the driving force.
Bespoke Packaging
24years of packaging box customization service experience. Custom made paper boxes according to customer artwork. Personalized original paper box and bag. Give the packaging box innovative elements, so that the packaging box can be more luxury. cost-effective packaging box manufacturers
Packaging Design
Packaging design combines the needs of customers paper bag and box to provide professional suggestion. Paper bag production plan adopts reasonable packaging customization suggestions and concepts. Stick to the beauty of ingenious packaging made by packaging box and bag.
Packaging Process
Paper bag is made of handmade origami, stringing, knotting, etc. to enhance the beauty and texture of the tote bag. Both the bag and box are made of reasonable materials, using ECO-friendly paper, cotton and other recycable&sustainable materials. All products complies with European environmental protection standards.
Original Packaging
The designer team has hundreds of product packaging boxes and paper bags design experience. Giving boxes and paper bags with brand stories and culture. In the packaging exhibition, Our original packaging attracted many attention. We are committed to participating in the customization of paper bags and packaging boxes.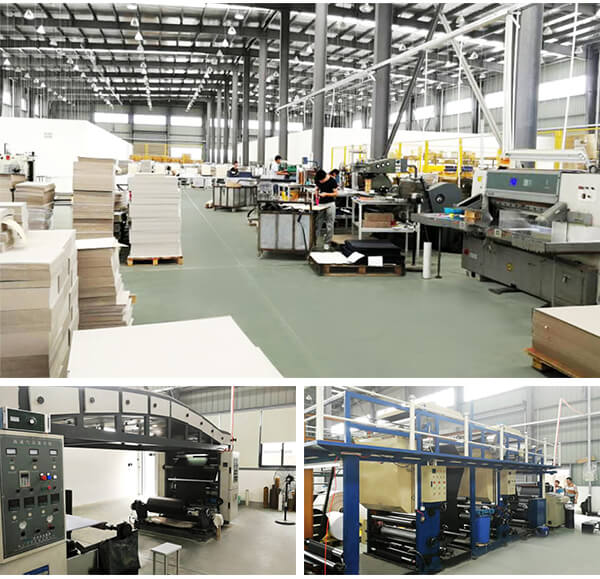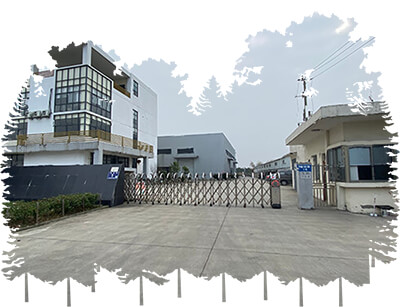 Newstep is located in Jinqiao Export Development Zone, Pudong, Shanghai, China. It is a high-end luxury packaging customized manufacturer integrating original design, R&D, production and sales.
Since 1997, we have been engaged in custom-made packaging boxes and paper bags. Factory is located in Kunshan, Jiangsu, covering an area of 17,000 square meters. Main products: packaging box, paper bag, garment bag, and other series of supporting packaging.
Widely used in packaging for cosmetics, jewelry, luxury products, garment, gifts, electronic products, food, health products, tea and other industries.
Newstep provides packaging customization services for European and American luxury brands all year round. Our client are located in Europe, the United States, Canada, Australia, the Middle East and China.
Custom Packaging box Process